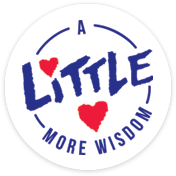 A Little More Wisdom
"Less is more" is a good adage for the first few months.  
What You Really Need to Get for Your First Baby
Written by
on April 8th, 2019
---
So, you're having a baby! As you get closer to the time of delivery it is time to start shopping. But what do you really need? The list is long but fairly basic for the first few months.
Crib with a good firm flat mattress
There are so many choices of cribs nowadays. When choosing a crib, the most important thing is to think is about what you'd like to do after the baby has outgrown the crib. One choice is to get a crib that turns into a toddler bed. I preferred having a basic crib (which I used for each one of my babies) and then moved them into a "big bed" that would serve them for many years. Our crib was used 3 times!
Changing table
You cannot imagine how many diapers you will change and you need a dedicated spot to do that. Having the table at your level for changing a baby will help your back.  Most changing tables have shelves or drawers so you can store the lotions, potions, diapers and wipes that you will need.  You also need some sort of diaper disposal apparatus. You want to make it as clean and easy as you can!
Rocking chair or comfortable arm chair
Get a rocking chair or comfortable arm chair (with an ottoman) that both parents like. It will not only be used for feeding your baby, especially late at night during those first months, but for just sitting and staring at that new sleeping infant as well.  But remember, this is probably going to be the same chair you will later use to read stories before bed time or to rock a sick child or one that awakens with nightmares and needs snuggles.
Baby monitor
There are so many baby monitors available and your choice depends what your goals are. Do you want to have video of your baby or just need to hear your infant? The goal is that you can be in another part of the house and know when your baby is crying and awake. Watching the monitor constantly and being tied to your phone screen at all times is somewhat overwhelming but also provides some "security" for a new parent. There is no documented safety benefit from buying an expensive monitor that "tracks sleep and breathing", so you don't need to spend more for extra features unless you want them.
Car seat
This is one area where I would not "skimp'. Buy the best car seat you can and one that you can easily use. Do you want one with a base that stays in the car and the seat can be transferred to different cars? Do you prefer one that straps in to your car? Most mothers prefer an infant car seat that can be used for the first 9-15 months and then they can get a convertible car seat. Remember, the car seat will be in the back seat of the car and will be rear facing until your child exceeds the height and weight limit – rear face car seats are no longer age dependent.
Stroller
This too is personal of a preference and there are so many to choose from. Buy one that will last beyond the first few months and make sure that it is not so cumbersome that you cannot lift it to put it in the car or travel with it. Easier to use is the key.
Basic Items
Beyond these the big ticket items, there are a few basic items you will need:
Diapers and a diaper bag
Baby clothes. Don't be tempted to buy too many newborn clothes (everything baby is cute) as you will be shocked at how quickly they outgrow their clothes in the first months
Sleep sack or swaddle blankets
Burp pads (all babies spit up at some point)
A few soft blankets for tummy time on the floor
Several brightly colored newborn toys to play with your baby
A pacifier (babies need non-nutritive sucking)
Formula and bottles if you are not breastfeeding. For breast feeding mothers, I would invest in a good breast pump.
If you start out with the basics you can always add. Buying too many things is not only overwhelming and expensive, but you often find that you really did not need as much as you thought.  "Less is more" is a good adage for the first few months.